Event Calendar
Suspension of classes for observance of Martin Luther King Jr. Day
University Academic Calendar
All Day
University Academic Calendar
Whole-Brain Leadership for PhD Students Seminar Series: You Don't Need a Weatherman
McCormick School of Engineering and Applied Science
12:00 PM
//
ITW Classroom, 1-350, Ford Motor Company Engineering Design Center
**This event is open to McCormick PhD students only**
Speaker: Iñigo Manglano-Ovalle
Professor, Art Theory and Practice
Judd A. and Marjorie Weinberg College of Arts and Sciences
Manglano-Ovalle is a conceptual artist whose multi-media works challenge notions of the political and the cultural. His current work regards the inversion of utopia, the fabrication of war, and the hypersonic reentry of Modernism. Recipient of a 2001 John D. and Catherine T. MacArthur Foundation Award and a 2009 Guggenheim Memorial Foundation Fellowship, Manglano-Ovalle has shown his works all over the world, including at the Guggenheim Museum, Whitney Museum of American Art, and the Art Institute of Chicago.
click to see full description

more
click to hide full description

less
Monday, January 28, 2019 at 12:00 PM - 1:00 PM
ITW Classroom, 1-350, Ford Motor Company Engineering Design Center Map
McCormick School of Engineering and Applied Science
NUTC Seminar: "Control of traffic composed of humans and automated vehicles" - Dan Work, Vanderbilt
Northwestern University Transportation Center
3:30 PM
//
Lower Level, Chambers Hall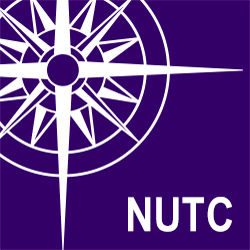 Northwestern University Transportation Center presents:
"Control of traffic composed of humans and automated vehicles"

DAN WORK
Vanderbilt University
ABSTRACT:
The majority of the best selling cars in the US are now available with SAE level-one automated driving features such as adaptive cruise control. As the penetration rate of these vehicles grows on the roadways, it is now possible to consider controlling the bulk human-piloted traffic flow by carefully designing these driver assist features. This talk will introduce modeling, simulation, and field experiments that illustrate the potential of automated vehicle systems at low market penetration rates to eliminate human-generated phantom traffic jams. It will also highlight new findings about the traffic impacts of current, commercially available level-one automated vehicle systems already on the road.
SPEAKER BIO: Dan Work is an associate professor in the Department of Civil and Environmental Engineering, the Department of Electrical Engineering and Computer Science, and the Institute for Software Integrated Systems at Vanderbilt University. He has previously held appointments at the University of Illinois at Urbana-Champaign, the Institute for Pure and Applied Mathematics at the University of California Los Angeles, Nokia Research Center Palo Alto, and Microsoft Research Redmond. Prof. Work is a member of the IEEE Technical Committee on Cybernetics for Cyber-Pysical Systems and the ASCE Connected and Autonomous Vehicle Impacts Committee. His research on autonomous vehicles has appeared in numerous media outlets including Good Morning America, Wired, and MIT Technology Review. Prof. Work was named a 2018 Gilbreth Lecturer by the National Academy of Engineering, a 2018 IoT Pioneer by Connected World, a CAREER Award recipient from the National Science Foundation in 2014.
click to see full description

more
click to hide full description

less
Thursday, February 7, 2019 at 3:30 PM - 5:00 PM
Lower Level, Chambers Hall Map
Northwestern University Transportation Center